Food in the Yucatán
This article is a primer on Yucatecan Cuisine.
The culinary delights of a typical Yucatecan kitchen come from a mouth-watering mixture of European and Mexican flavors. A bit of history will explain this strong European influence. Once upon a time the Yucatecan peninsula was considered to be too far away and too difficult to reach from the rest of Mexico. Mountainous terrain and very poor roads kept the peninsula isolated.
Having ports with commercial and cultural contacts with Europe (especially France), New Orleans, and Cuba, the Yucatecans were easily influenced by many aspects of these countries, such as dress, architecture and cooking, which explains why there is a lot of European flair in its cuisine...
It's been a tasty challenge to discover the best restaurants in Merida, Mexico... We're not chefs but have been eating our way around the world over the past five years. So we'd like to think that we know a good dish when we taste it. Yet we tend to put a heavy emphasis on the value. We love a good deal almost as much as good food, so you'll see this clearly reflected throughout our Merida restaurant reviews. We gravitate towards local cuisine rather than international restaurants, as we like to taste the flavors of the regions we travel to right on their home turf. Hence most all of these restaurant recommendations in Merida reflect Yucatan and other Mexican cuisine... Like most people visiting Merida, we always stay in Centro. So most of the restaurant recommendations in this guide are within walking distance of the center of town unless otherwise noted.
This is the very best collection of food information!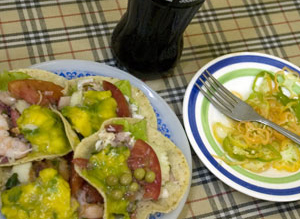 Hmmmm… tacos! When you finally discover real Yucatecan tacos, how can you not fall in love? Don't you just love those Maya-palm-sized tortillas heaped with a tasty combination of meats or fish or veggies, topped with a spicy salsa, some fresh onions, avocados, tomatoes, cheese or black beans? Pour on a little salsa habanero, roll it into a mini handheld burrito and pop it into your mouth! Four of those is a filling meal, eaten in about ten minutes. Fast food, Yucatán style! Heaven on the tongue!
In our experience, which is far from exhaustive, there are good taco stands in every corner of the city. In fact, most of the ones we know about are not in the Centro, curiously. They aren't all on the Paseo de Montejo either… in fact, some of them are downright difficult to find for the uninitiated...
Topics: Eating mercado food, Words appearing on menus, Mercado eating places, Wheat-floour products, Meats and beyond, Stew ingredient words, Sweets and sweets ingredients, Cheeses, Corn foods especially Tortillas, Non-alcoholic drinks, Alcoholic drink list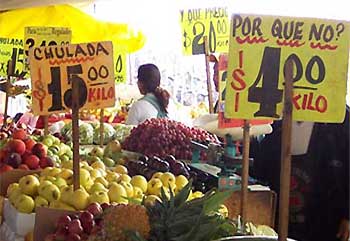 In Mérida: Mercado Municipal; at corner of north-south running Calle 56 and east-west running Calle 65. Very large; typical food market on ground floor, but top floor occupied by a handicraft market, the Bazar de Artesanías Municipales, specializing in hammocks, embroidered clothes, straw bags, pottery, and filigree jewelry...
Ever smiling owner of El Negro taqueria Sr. Buenaventura Couoh makes his clients happy and eager to return to his exquisite seafood mini-restaurant. Located in Mérida's city center on calle 64 between 59 and 61 is this little restaurant with a well deserved reputation built over twenty years for fresh "mariscos" or seafood tacos and sandwiches. Reasonably priced with rapid service and top quality, they have the recipe for success. Open from 7 AM to 3 PM every day. They also feature turkey, pork and regional dishes. Catering is available on request. Tel. 924-44-45.
Slow Food is an international grassroots membership organization promoting good, clean and fair food for all. We envision a world in which all people can access and enjoy food that is good for them, good for those who grow it and good for the planet.
Slow Food is a nonprofit, eco-gastronomic, member-supported organization that was founded in 1989 to counteract fast food and fast life, the disappearance of local food traditions and people's dwindling interest in the food they eat – where it comes from, how it tastes and how our food choices affect the rest of the world. Slow Food brings together pleasure and responsibility. The Yucatán chapter celebrates our diversity of local food production and rich culinary heritage, and aims to preserve, promote and enjoy it for generations to come. Slow Food Yucatán will promote the healthy growing and eating of locally farmed and produced food, and preserve the region's unique culinary history. This in turn provides economic benefits to the local farmers, and healthy and delicious benefits to everyone who eats in Yucatán.
For those of you who know us, you know that we have made Merida, Mexico our home base for the past year. We have traveled around Mexico and the United States and are soon packing our bags again for a trip into Southeast Asia for the next 3 months. Below you will find our list of what we think are the best restaurants that we have discovered in Merida. We love food and love trying out new cuisine as long as it is vegetarian or pescatarian (we eat fish and seafood occasionally) everywhere we go. In the Yucatan, meat is used heavily in most of the traditional food they cook. However, we have done our best to find substitutions or ways of eating delicious, local food. But we do know that we are missing out on some amazing restaurants that are more geared toward meat eaters. So bear with us as the restaurants we love are more driven toward a plant-based diet with some eggs and fish mixed in.
We've eaten out so much in Merida I've totally lost count of how many restaurants we ate at. But I've kept a detailed record of all the best ones that we loved. As food travel bloggers we spend much of our time eating (and drinking) out. This guide is a culmination of 18 months of consumption – The best restaurants in Merida Mexico and street food, cantinas, bars. Pretty much anywhere that tasted great, it's in this mega guide. The focus of this guide is on central Merida restaurants, bars and cantinas – within, or close to, the historic centre (centro)… BUT we've included just a few that are further north – simply because they have food worth getting a taxi for! So the main area we cover stretches from Parque San Juan (Calle 69) in the south to Colonia Mexico & Itzimna (Av Jose Diaz Bolio) in the north. We also assume the average tourist will spend up to 7 days in Merida, so there are more than enough places below to try great local cuisine as well as have a break from Mexican/Yucatecan cuisine and eat some good international options too. If you will only be in town for 48 hours or less, we've put together a mini food itinerary which focuses on Yucatecan and Mexican cuisine only (find that below the list of restaurants). We've also created two food/drink/history walking tours which you can download free!
We had no idea when arriving to the Yucatan peninsula that Yucatan Food & Mayan Food would feature so many unique and interesting dishes. From succulent pulled pork Cochinita Pibil – a Mayan dish using Mayan/Spanish/Caribbean ingredients. To pre-colonial, traditional Mayan food, like Sikil Pak (ground pumpkin seed dip) or Pavo en Sac'kool (bush turkey in a white sauce with tomato)… To more modern innovations like panuchos (crispy deep fried tortillas stuffed with mashed black beans). Yucatan cuisine has been a surprising journey that has led to our discovery of more than 50 tasty dishes to feast on. Although we have traveled around the Yucatan Peninsula in search of traditional Mayan Food, we've spent more than a year in the city of Merida (Read our comprehensive travel guide to Merida) – so a lot of our recommendations of places to eat are there. However, you can track down the dishes mentioned below in other parts of the Yucatan peninsula. But for an authentic experience, I highly recommend leaving tourist areas such as Playa del Carmen, Cancun & Cozumel, and taking a trip to Merida & Valladolid to find the most local and traditional Yucatan food.
Merida, Mexico has some amazing food! When I first visited it was for just two weeks, and I tried tons of the "top ranked" places I had researched. Now, six months after living here, I've gone a bit deeper and tried out places that blog mentioned, locals told me about, places around my house in Norte, and of course some chain restaurants that you see all over the place. I'm going to share my thoughts on the best restaurants in Merida.
As a traditional refuge of Mayan culture, the elegant colonial city of Mérida in Yucatán state is one of the top cities for Mexican eating. The regional cuisine is noted for its heavy use of cumin, cinnamon and the orange-red condiment, achiote – as well as for baking dishes in banana leaves, a technique that imparts a delicious and unique flavor. The good news is you don't need to spend a fortune dining in Mexico to enjoy the local cuisine. Here are some of the best places to eat out on the cheap in the foodie paradise of Mérida.
The smell of meat cooking has my cat Hobbsie screaming outside the kitchen door. But I won't let him in just now… I am making Chiles en Nogada, a signature dish from the state of Puebla. There's no special occasion, it is just "that time of year"...