Archaeological Sites in the Yucatán
LANIC's mission is to facilitate access to Internet-based information to, from, or on Latin America. Our target audience includes people living in Latin America, as well as those around the world who have an interest in this region. While many of our resources are designed to facilitate research and academic endeavors, our site has also become an important gateway to Latin America for primary and secondary school teachers and students, private and public sector professionals, and just about anyone looking for information about this important region.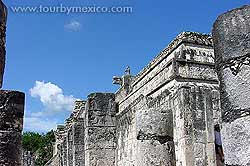 Chichen - Itza, world famous archaeological zone, is located 120 km from Merida via federal highway 180 in the State of Yucatan, Mexico. The name Chichen - Itza is derived from the Mayan language: "Chi" - mouth, "Chen" - well and "Itza" - the tribe that inhabited the area. Between 600 and 1250 A.D. this ancient city whose name means "at the mouth of the Itza well," was the center of political, economic, religious, and military power, not only in Yucatan but also in the entire southeaster part of Mesoamerica. The Itza domain included pert of Tabasco and Campeche, the northern Gulf Coast, and a large part of the southern lowlands. Its sphere of control was based on regional and long distance mercantile activities, which generated one of the most important commercial circuits in all Mesoamerica.
This is a fabulous slide show of both famous and little-known Mayan sites in the Yucatan. A must see!
This slide show (in Spanish) explains some Mayan history, and the meaning of the end of the Mayan calendar.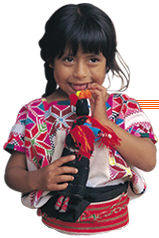 The Mundo Maya covers a territory of 500 thousand square kilometers, now occupied by five Mexican states: Chiapas, Tabasco, Campeche, Yucatán and Quintana Roo; and the Central American countries of Guatemala, Belize, Honduras and El Salvador. In this land of great contrasts, where rivers and mountains intertwine with jungle and sea, the Mayan civilization developed three thousand years ago. It is one of the most outstanding cultures of ancient times.
Today, the massive temples and ceremonial centers built by these ancient people are impressive archaeological sites. But the Mayan culture does not belong in a museum--it lives and breaths in the people who populate the Mundo Maya today and who adhere to ancient customs through their art, religion and agriculture.
The world of the Maya has many faces; the steaming tropical jungles, gently-sloping farmlands and harsh savanna flatlands are as much a part of its character as are the towering mountain ranges, soaring volcanic peaks, and sun-kissed Caribbean beaches. It is a utopia for divers, a haven for adventurous travelers and a fertile source of biological and ethnic diversity for historians and ecologists. Charming colonial towns appear at every turn, and ultramodern resorts coexist in harmony with tiny indigenous villages...
Explore Yucatan off the beathen path with knowledgeable guide Dan Griffin. Discover little-known ruins, experience Maya culture, and have fun! Distinctive, made-to-order tours, recommended by Frommer's 2012.