Fishing in the Yucatán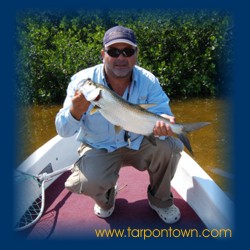 Casa Guadalupe is proud to associate with Tarpon Town Anglers - the first Mexican-owned angling company in Campeche. Raul Casteñeda and the entire team of guides have decades of experience in home waters, and the finest eyes on the flats! For years they have been helping anglers -- rookies and experts alike -- to hook baby tarpon. They are determined to make your fishing experience a joyful one!
Campeche is located less than 2 hours from Mérida. For anglers accustomed to rising early, this can be an easy day trip. Of course, overnight excursions to Campeche are an option as well. Meanwhile, non-anglers can sleep in, enjoy all that Merida has to offer, then reunite when the fishing is over.
Or, go directly to Campeche and end your trip with a stay in Merida (especially if your flight home leaves Mérida at 7 am!).
Transportation is easily arrange on request, either by Tarpon Town Anglers or Casa Guadalupe.
Tarpon Town Anglers gives a special discounted rate to anglers who rent Casa Guadalupe. We will gladly give you a discount code so you can book directly with Raul and still receive the discount.
---
Check back later for a description of our February '08 fishing expedition with Tarpon Town Anglers. Meanwhile, here are a few snapshots so you can see what we caught - and how happy we were!!