The Arts in Mérida
Yucatán es un estado de intensas expresiones en sus manifestaciones artísticas, sus tradiciones y su patrimonio histórico. Por ello, desde 1983, el Instituto de Cultura de Yucatán ha enfocado sus esfuerzos hacia el firme propósito de que las actividades culturales en el Estado adquieran un óptimo desarrollo, cada vez más consecuente con las necesidades de nuestro tiempo...
Boston Globe on Art in Mérida
In this colonial city, step into a gallery and art lies at your feet. Nearly every building in Mérida's historic center retains original 19th century mosaic floor tiles, arranged like intricate Art Nouveau carpets...
The best days for your art tour would be Wednesday through Saturday, as some of the locations are not open on Sundays, Mondays, or Tuesdays. Museums tend to open and close earlier than galleries, so plan accordingly. If you want to see the sculptures on Paseo Montejo, we suggest early morning or evening. The sculpture walk is a perfect reason to stroll down Paseo Montejo at night (the sculptures are lit) and enjoy the ambiance as well as the art...
Looking for an art gallery in Mérida? The area around Parque Santa Ana, which is on Calle 47 between Calle 60 and 58, is striking us lately as a nascent art district. There?s the state-sponsored modern art museum, Centro de Artes Visuales, that used to be a grammar school, and there?s the Luz Gallery which features modern Cuban artists. There?s also the coffee shop, La Quilla, a little farther north, that has art-filled walls and a lovely interior courtyard, and there?s el Dragon Sabio gallery two blocks north of that, also on Calle 60. Two blocks away on Paseo de Montejo, of course, is the annual outdoor sculpture exhibit sponsored by the MACAY museum, featuring sculptures from Mexico and Japan in 2007.
In the center of it all, and pre-dating practically all of it, stands the La Casa de Los Artistas (House of the Artists) (on Calle 60 just north of Calle 45), a bright yellow colonial building whose vibrant appearance is a clue to what is inside. This light-filled, art-filled gallery is owned by and is the exhibition space for two artists, Melva Medina and Abel Vásquez, who have created a lovely environment in which to view their work.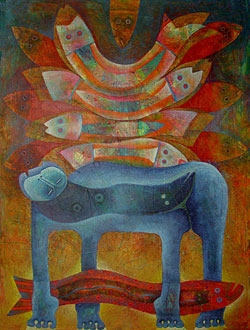 In the heart of the Centro Histórico of the city of Mérida, Yucatán in México, is the Nahualli Gallery, presented by Artists in México. It is a place where the solemn elegance of the colonial architecture is a beautiful contrast to the contemporary artworks displayed within. The artwork that we choose to display in this space is luminous, unique and of the highest quality.
The artists, creators and curators are Abel Vázquez, Melva Medina, and Alma Citlali. The artists' years of experience in the art world at a national and international level in México have led them to propose a new form of seeing, enjoying and acquiring works of art. With their new studio, they attempt to give the visitor the opportunity to share with them, interact with them directly, enjoy their creative process and be witness to the birth of their new works.
Nahualli Gallery has been the scene of many cultural events, musical performances, poetry readings. Writers and others from various disciplines have enriched the space with their presence. In addition, the artists offer workshops, held in the outdoor studio, to introduce new artists, young and old, to the joy and adventure of creation...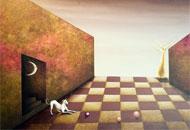 If you think about the art that traditionally springs forth from this part of the planet, it?s typically large art. Pre-columbian Mayan art was executed in stone? big square pieces of stone with carvings, big stone pyramids, big stone snakes and jaguars. The Spaniards built massive colonial homes and haciendas in an attempt to make their own distinctive mark on this vast limestone tapestry of a peninsula. They built with big stone columns, huge wooden beams, massive stone walls. The art of Samuel Barrera, native son of Mérida and 100 percent Yucateco, provides a complete counterpoint to the broad brush strokes left by Mayans and Spaniards. As he tells it, he strove from the beginning to make his art different from what he saw around him. In content, delivery and yes, even in size, he has achieved that goal...